A separate reseller version in your online store enables visitors to apply for reseller accounts. Additionally, you can also create reseller accounts in your online store's admin panel.
Applying for a reseller account
When visitors go to the reseller store version and a log-in is required, they will see a login form and a link to the reseller application.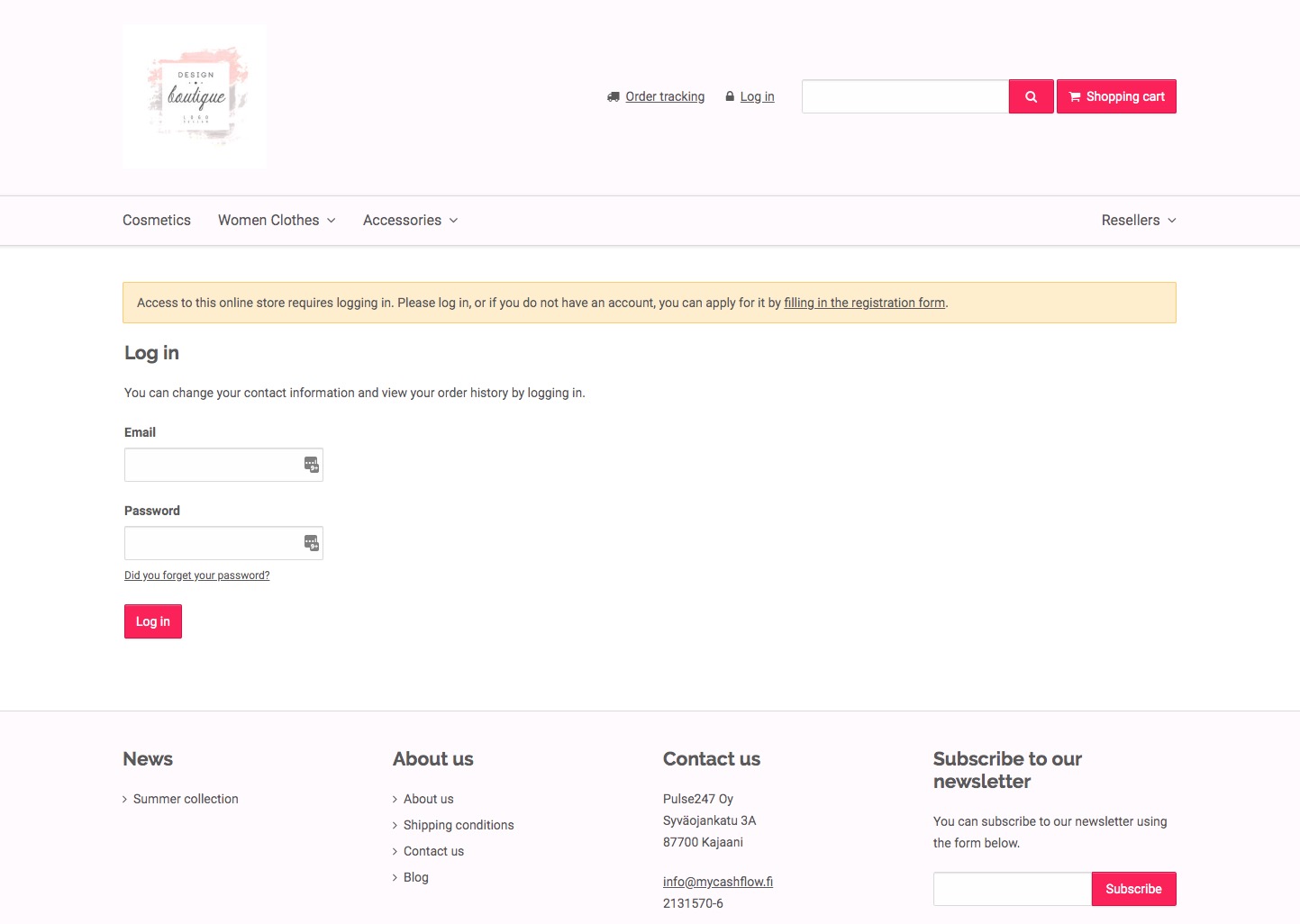 After the visitor has filled in the reseller application, the store admin will receive notification via the email address that has been defined either in the version settings' Email notifications item or on the Settings > General settings page.
To view the reseller application in your online store's admin panel, click the link that is included in the notification. All reseller applications that are awaiting processing can be viewed on the Customers page, in the left-hand pane's Reseller applications item.
Processing reseller applications
Open the application you'd like to process even via the link in the email notification or the menu on the page.
To accept the application, select

Accept

. Otherwise, select

Reject

.

If you accept an application, make sure that you add the customer to all of the relevant customer groups.

If you reject an application, a regular customer account will be created for the reseller in your online store. The reseller won't be able to use the account to access the reseller-only contents.

Optionally, you can also notify the customer via email that the application has been accepted or rejected.
Registering reseller accounts via the admin panel
On the page, create a new customer account.
In the customer form, select

Username is valid and customer has a right to login

.

You must select this option so that the customer will be able to access the reseller version.

If you've created a separate store version for resellers, you can select it in the

Version

menu.

Selecting the version doesn't prevent or enable the user to log in to the reseller version. The setting simply provides the information on the version that the customer used to register in the online store.

In

Customer groups

, at least add the customer to the reseller customer group and other relevant groups.

Fill in other customer details and save the customer account.

When necessary, notify the customer about the new account.

No automatic notification about the new account is sent to the customer.