In this article, we look at MyCashflow's basic features and usage. If you have never used MyCashflow before, you should read this article.
MyCashflow is a cloud-based ecommerce system. There is no need to install MyCashflow on your computer or a web hosting service. The system is hosted on MyCashflow's own servers.
If you haven't signed up for a MyCashflow store yet, you can start using the application by starting a free 30-day trial.
How does MyCashflow work?
There are two separate areas in each MyCashflow store:
The admin panel for merchants, in which you can edit product information, process orders and define software settings.
The customer area, in which your customers can browse and purchase your store's products.
While opening your MyCashflow store, you defined your store's address (e.g. https://STORE-NAME.mycashflow.fi). You can access both the customer area and the admin panel via this address.
Below we will briefly discuss the basic features of both areas.
The online store's admin panel
You can access the admin panel by adding the ending /flow to your store's URL: https://STORE-NAME.mycashflow.fi/flow
You may want to save the admin panel's address, for example, to your web browser's bookmarks, so that you will easily find it in the future.
When you go to the admin panel, you will first see the login page. Enter the email address and password you used when you opened the store.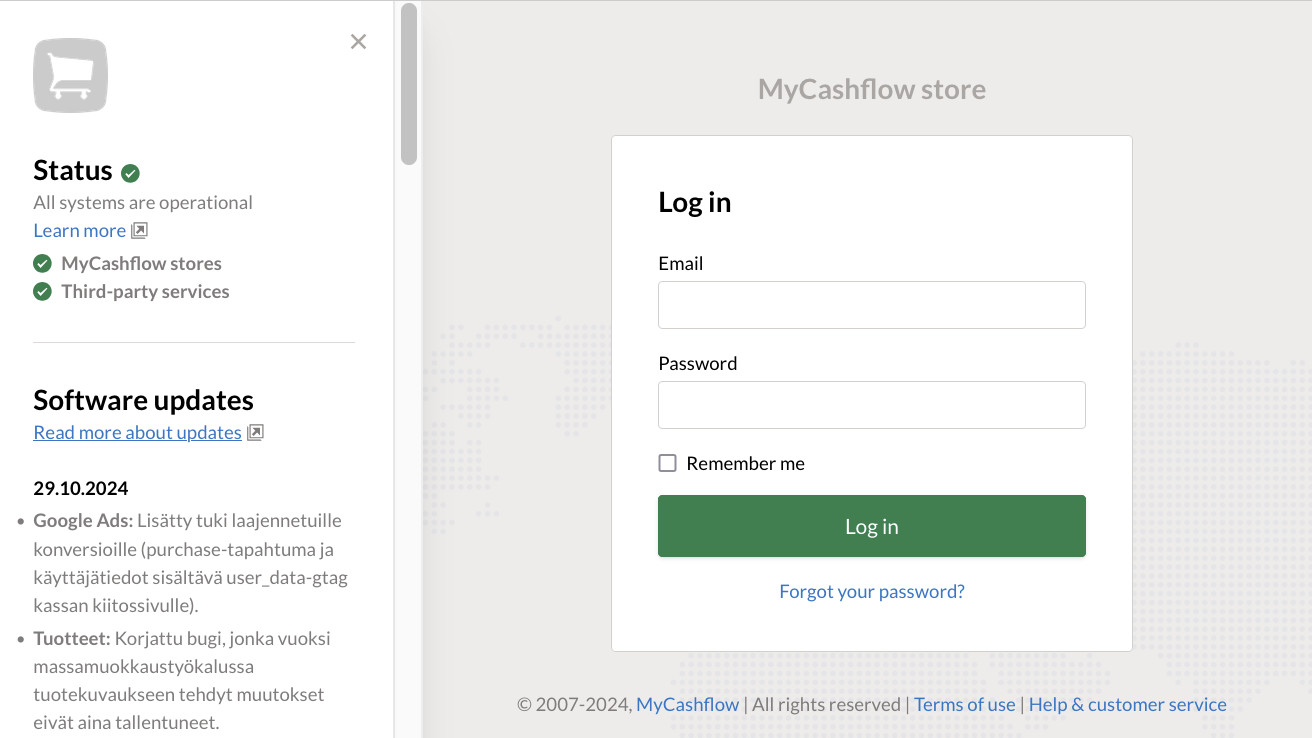 After logging in, you will see an overview of your online store with useful information about your store's sales, customers, and products.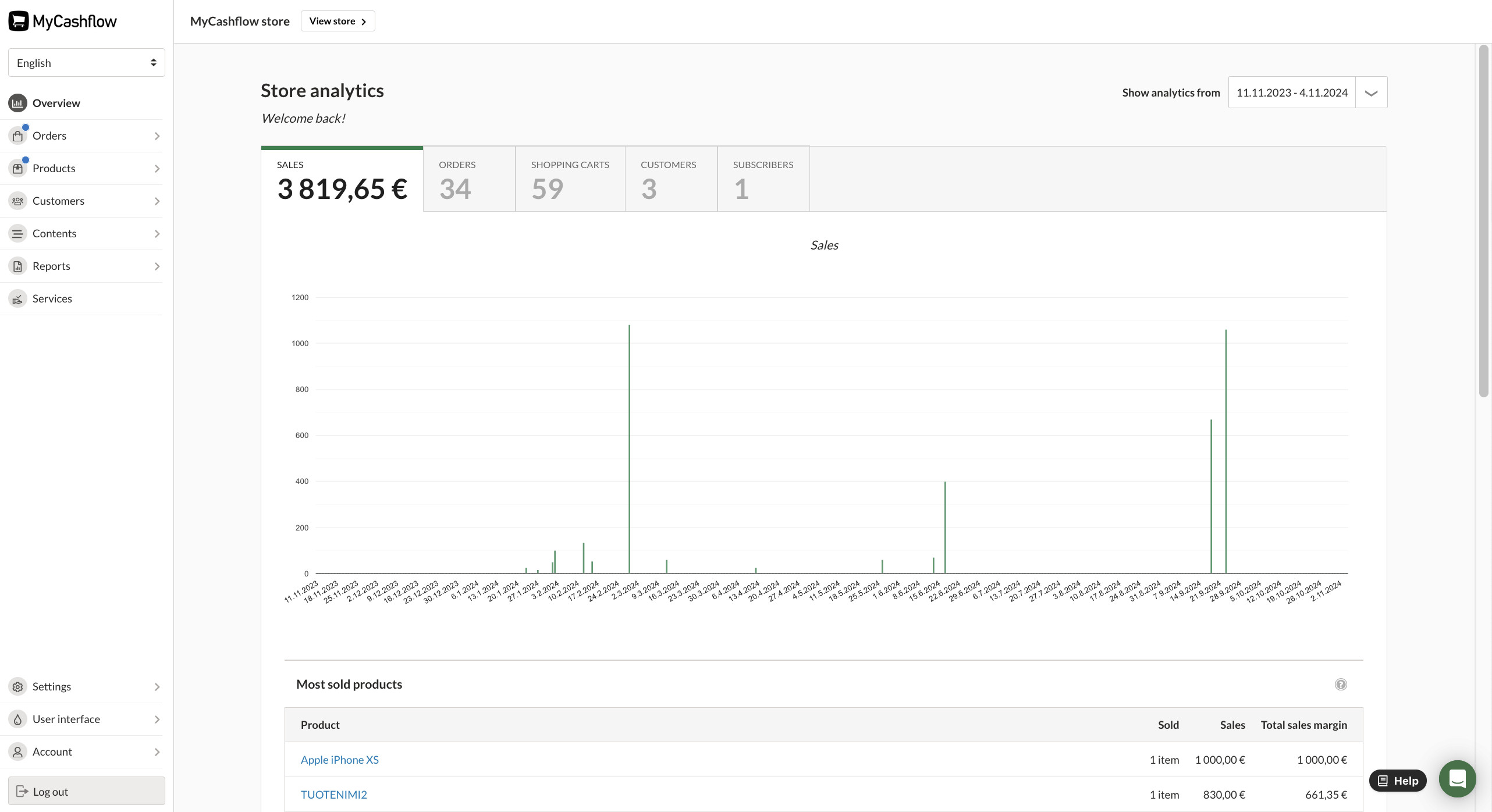 You can access the customer area from the admin panel at any time by pressing the View store button in the upper right corner.
The online store's customer area
You can access the customer area by typing your store's address https://STORE-NAME.mycashflow.fi in your browser's address bar.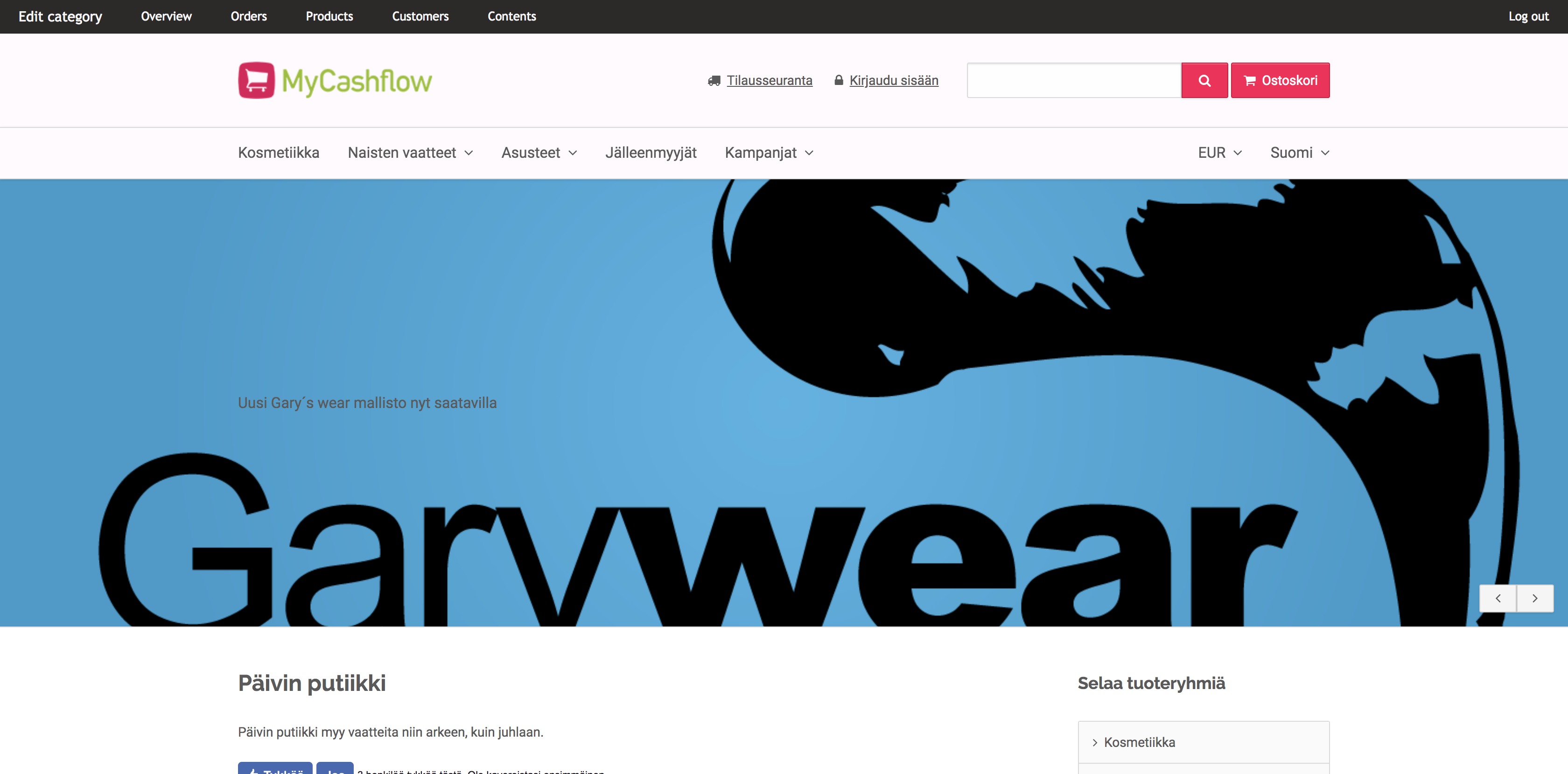 This is where your customers browse through your store's products and other pages, and make orders.
The customers can also create an account in your store to view their order history and check the status of their current orders.
Once you are signed in to the admin panel, you will see the admin bar at the top of the page, giving you easy access to the admin panel's functions.
Where do I find help?
If anything is unclear to you while using the system, you can search for answers in the following sources:
We also have a customer service chat, which you can find both in the admin panel and on our website at the bottom right corner of the screen. Send us your question and we will answer as soon as possible.

You can also contact our customer service by email or phone.