In this chapter of our quick guide, we describe the settings that are defined when you set up MyCashflow.
If you don't define the settings presented in this chapter, you will most likely experience errors later, when you use the system.
In MyCashflow settings, you define important details that affect the use of the system. While opening an online store, you should do following:
Define your store's contact information
Define the email address for sending and receiving notifications
Temporarily prevent visitors from entering the store
Define your MyCashflow account's billing preferences
This article explains how to define these settings. You will be able to change them at any time.
Store's contact information and email
In the admin panel's top menu, go to Settings > General settings. On this page, you can define the store's contact information, email and other important settings.
Define the store's settings in the following way:
If your store has its own logo, upload it in the

Logo

field.

By default, the logo appears in the store's upper left corner and on invoices.

In the

Email

field, enter the email address for sending and receiving the store's notifications.

For example, if a customer places an order in your store, a notification about a new order will be sent to this email address. And once you mark the order as delivered, the customer will receive a notification in which the email address entered in this field will be used as the sender.

The best way to send emails is to use an address with your own domain name (e.g. info@store.com). In case of email addresses maintained by other providers (such as Gmail and Yahoo Mail), it cannot be guaranteed that all emails are delivered to their recipients.

Select

Close temporarily

.

With this setting on, visitors cannot access your online store. Only users who are logged into the admin panel can view the store. You may want to keep this setting on especially while you are setting up the store, and your content is not ready to be published.

At the end, add your store's contact information.

Finally, save the settings.
You can ignore other settings on this page at this time.On this page, you can also define shipping conditions, which are discussed in more detail in chapter 5. Defining shipping methods.
Your MyCashflow account's billing preferences
You can choose a billing period and method for paying your MyCashflow fees.
In the admin panel's top menu, go to Account. Here you can manage your MyCashflow account and plan. In the page overview, you can see the summary of your online store's plan and billing information.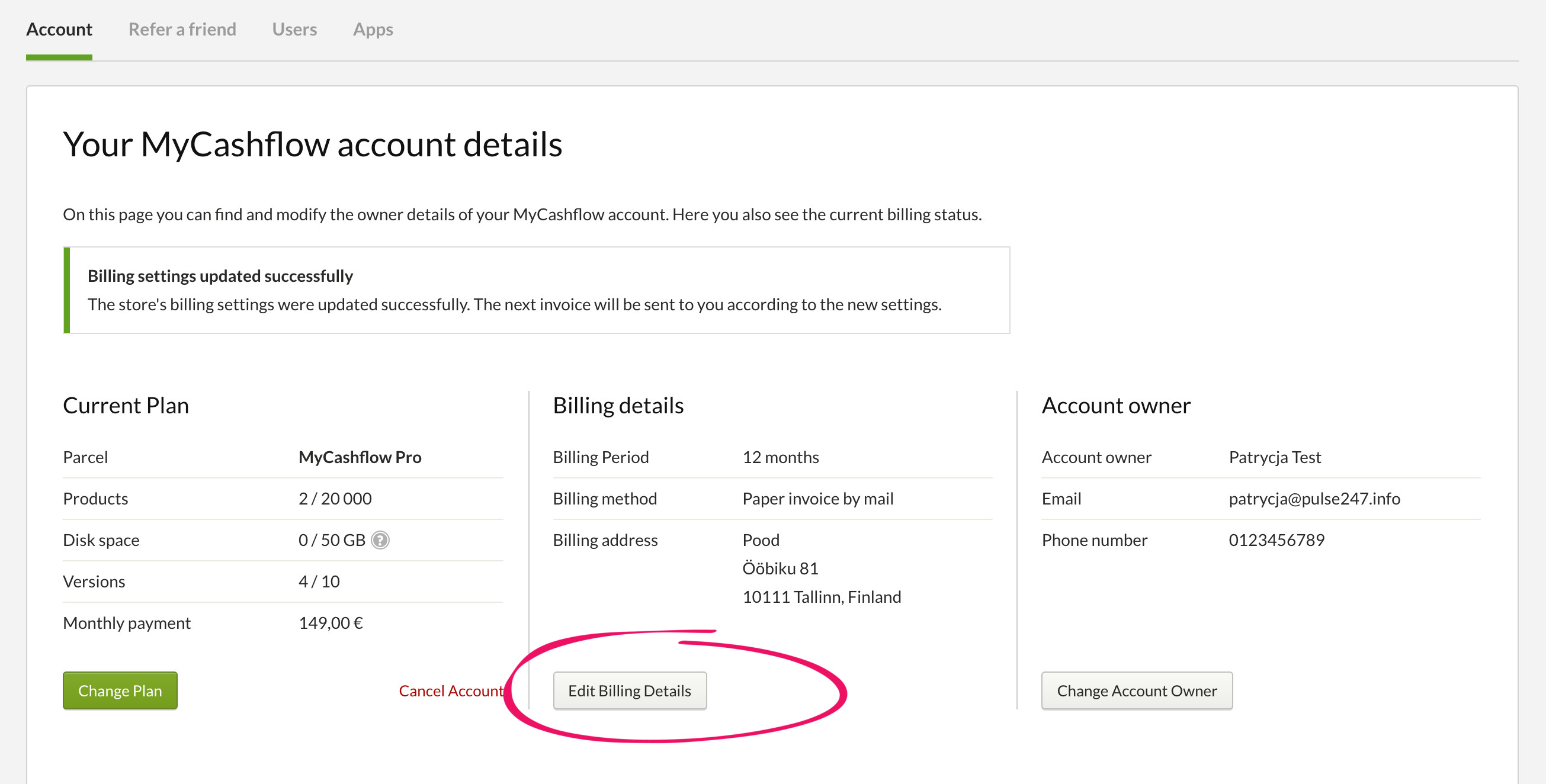 Press the Edit Billing Details button to add billing information. Enter your company's details, and choose the shipping method and billing period that suits you. Save the form.